Shawn Wasserman posted on January 31, 2017
With the release of ANSYS 18, the computer-aided engineering (CAE) company is expanding its journey into the Internet of Things (IoT) and digital twin. This next step for ANSYS is made possible thanks to some new partnerships with PTC ThingWorx and GE Predix.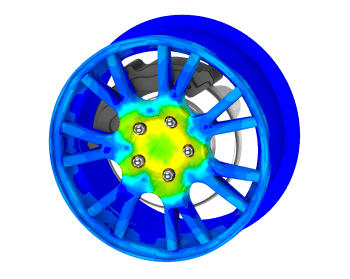 ANSYS 18 simulates the contours of stress on a wheel. (Image courtesy of ANSYS.)
ANSYS has initiated a multiyear trend with this release it's dubbed "pervasive engineering simulation." The goal is to ensure that simulation is used throughout the life cycle of a product from design, manufacturing, use and end of life.
In other words, ANSYS wants to make it easier for nonsimulation experts to use CAE software. The IoT isn't the only way pervasive engineering is making a splash—this new version marks the launch of ANSYS' simulation engineering app builder.
All this talk might have core users wondering, what's in it for me? But don't worry, says Mark Hindsbo, vice president of marketing at ANSYS. Analysts and exports can still expect a clear focus on improving the core technology.
IoT and Digital Twin Will Make CAE Pervasive
Simulations are expanding their influence far past a product's development. It's not only edging its way upstream into early project planning but downstream as well into operations.
This is where tools like the IoT and digital twin can make a big difference in the market.
Shell and tube heat exchanger simulation shows temperature contours, streamlines and key flow values. Wouldn't this all be useful on the production floor through a digital twin? (Image courtesy of ANSYS.)
Take plant operations. Sometimes the blueprints and manuals are not enough to make effective decisions.
By taking advantage of the IoT, engineers can gather real-world data in real time and transfer it into a digital twin of the equipment in study. The engineer in charge of the plant can then run a series of simulations to help inform their decisions, predict maintenance cycles, optimize production and more.
For the engineers paying attention, they might find it hard to see how a 3D ANSYS simulation could be fast enough to be run in the smart factory example above. To that end, in ANSYS 18, Mechanical and Fluent are now able to reduce the order of their models for use in a digital twin or within Simplorer's systems simulation software.
ANSYS Simplorer's systems simulation software is compliant with the Modelica library.
"Reduced-order models can be simulated hundreds of time faster than a finite element simulation," said Handbo. "For the IoT and digital twin, you need immediate solve times. If you feel your pump is degrading, then you want to run the model quickly and assess thousands of settings to find the best one to fix the problem."
To bring ANSYS' simulation technology into the IoT and digital twin world, the company has decided to partner with PTC ThingWorx and GE Predix. This is a smart move, as both organizations already have a head start in the IoT market and are well respected by the engineering community for their CAE software.
"ThingWorx and Predix do a lot of things we don't do," Hindsbo added. "They gather sensor data, transfer it through a protocol, keep things secure, gather information into data warehouses and perform analytics. They are good at that. We are good at the 3D virtual design. We say, give us the sensor data as the operating conditions and we will tell you how it performs."
Previously, ThingWorx, Predix and ANSYS were only able to communicate using a customized integration. This MacGyver-esque solution would require a lot of work getting them all to speak the same language. Now it's all built in.
"Working with PTC, GE and other players, everyone realizes that IoT is an emerging area, especially around digital twin," said Hindsbo. "They also realize that it's an ecosystem. No one has everything everyone wants. Having worked with PTC and GE on this, we found them very open, and it's been two great partnerships. They certainly come at it with an ecosystem view."
To that end, ANSYS is looking to integrate its CAE technology into leading third-party IoT and digital twin providers, instead of breaking into the market on its own. Hindsbo mentioned that the company has no intention of making its own IoT platform in favor of focusing on the physics.
This has been a common strategy for many organizations looking to jump onto the IoT bandwagon. There is already a glut of IoT platforms available as is, and no company should spread too thin trying to make every CAE tool the community needs. Instead of spending the money to make your own, it's a good strategy to hedge your bets and integrate into the likely market winners. This is a good way to increase the reach of your brand.
Simulation Engineering Application Builder Comes to ANSYS Users
Simulation engineering apps are another means to which simulation can branch out of the design cycle. They are a means to help engineers disperse their industry knowledge to other markets and functions or to create customized standard workflows or user interfaces (UIs).
One highlight to simulation engineering apps is that the simulation expert can create a customized CAE tool that ensures an organization's best practices are met even if the tool is being used by nonsimulation experts. You don't need to look into the hood of your car to operate it—simulation engineering apps try to make this true for CAE as well.
ANSYS simulation engineering apps available on the App Store. Many are free and created by ecosystem partners or internal experts. (Image courtesy of ANSYS.)
ANSYS 18 comes packaged with an application builder that can be used to create these simulation engineering apps.
"We want to make it easier to make and publish apps," said Hindsbo. "This app builder offers a lot more drag-and-drop workflows and wizards to create the apps. Previously, it was more programming and scripting."
The apps are not limited to those that simplify a workflow for nonexperts. It can also codify a specific simulation type or standardize a reporting style. Additionally, engineers and consultants can sell and share their apps to clients via ANSYS' App Store. Apps purchased from the store can also have a license key associated with them to further protect the intellectual property of the programmer.
"The goal is to have apps that can run independently from the ANSYS framework," explained Hindsbo. "Currently, the app requires data, such as the mesh and solver, that rely on ANSYS products requiring an ANSYS license. Apps under a binary format, however, don't need any license and protect the intellectual property in the source code."
"Users can also limit the deployment of an app by enabling its usage for a given project only," clarified Hindsbo. "In that case, the app is stored in the ANSYS Workbench project, and only this project is able to load the app. This leaves no way for a supplier to reuse this app for another project."
ANSYS AIM Is Maturing into a Complete CAE Platform
Another more pervasive tool-making simulation is ANSYS AIM. The tool targets designers that are looking to not only plan geometry, but also run simulations on said geometry.
ANSYS simulation engineering apps available on the App Store. Many are free and created by ecosystem partners or internal experts. (Image courtesy of ANSYS.)
Over time, ANSYS has beefed up the simulation side of AIM, and Hindsbo noted that customers are starting to state that the variety of CAE tools in the software has reached a critical mass.
"AIM was a new product, but it had feature gaps. It now seems that the features of simulation are wide enough that there is some broad applicability."
The new release looks to further the abilities of AIM. Files created in AIM now have increased compatibility with ANSYS Fluent and Mechanical. These files are made easier to transfer into ANSYS' flagship simulation software so that analysts will be able to dig deeper into the physics of the designs, without starting from scratch with respect to geometry.
Hindsbo explained that there will still be some data loss in the transfer, and complex ANSYS simulations cannot be transferred back into AIM. However, this might signal the first steps of ANSYS moving towards a portfolio-wide platform with interchangeable file types and interoperability.
Key Technology Improvements to ANSYS 18 Portfolio
ANSYS has also put in a lot of time to focus on the core technology of its CAE tools. One addition to the team that is sure to see use from engineers in almost any industry is ANSYS' improved design exploration technology.
"We see simulation going upfront and being a verification step—conversely designers are flipping this on their head," said Hindsbo. "Now they are saying, here is what I want it to do, so let's try and make an optimal design based on that. This is where design exploration comes in."
Topology optimization has ensured these helicopter rotor parts can meet the safety requirements while also providing weight savings. (Image courtesy of ANSYS.)
Design exploration helps engineers optimize their designs by helping them explore the design space. Engineers use parameters to define variables they wish to explore. The program then uses optimization and search algorithms to iterate the simulation with new values defining each parameter. Hindsbo explained that the demand for this tool to increase its scalability is ongoing as engineers wish to test hundreds or even thousands of parameters.
Another interesting product enhancement tool added to ANSYS Mechanical is its new topology optimization tool. These optimization programs offer engineers an optimized part based on the loads, packaging space and mode of construction. These tools are key to engineers looking to lightweight their products.
There is a lot of excitement with topology optimization, as it is a perfect pair for 3D printing applications that can build truly optimized designs. However, semi-optimized designs can also be created by this software that will take into consideration more traditional manufacturing processes like extrusion, molding and subtractive methods.
According to Hindsbo, the topology optimization tool was created as a component that is currently housed in Mechanical. As a result, ANSYS will have the ability to embed it into other tools it offers.
Since topology optimization is a perfect tool to create an early draft of a design, it is curious that the tool wasn't embedded into ANSYS AIM. AIM targets designers working on products early in their development process. It will therefore not be surprising to see the topology optimization tool added to ANSYS AIM during one of its next few updates.
Hindsbo also noted that there is a significant number of material advancements to ANSYS Mechanical and its material list. Much of these material improvements will cater to those working on geological, electronic and biological simulations. For instance, engineers will now be able to simulate materials with variable properties that differ from the other components around it. Some examples include bone, other organic tissue and chipboards.
Other changes to the ANSYS portfolio include:
SCADE is an embed logic architecture design tool. This release sees SCADE's added compliance to auto and aero standards, including, FACE, AADL, DO-178C, ARINC 661,AUTOSAR, ISO-26262 and Open GL SC 2.0
Release of ANSYS CFD Enterprise, which offers a new package of fluid dynamics solvers as well as pre- and postprocessors
Ability to study antenna signal interferences within a simulated environment like a car or cityscape
Icepak integration into the electronics desktop, linking thermal and mechanical simulations to Maxwell and HFSS's electromagnetic fields simulations in one platform
Ability to import electrical models based on chip profiles from vendors and model the connections
UI improvements throughout the portfolio based on customer feedback
To find out more about ANSYS 18, check out the company website.